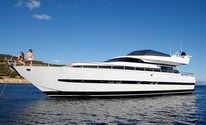 Private Yacht Cruises
Corfu island
 | 
Hotels
 | 
Apartments
 | 
Villas
 | 
Car hire
 | 
Corfu videos
 | 
Weather
 | 
Corfu holidays
 | 
Properties
 | 
Cheap flights
|
Romantic Things to do
Corfu (Kerkyra), Greece ...the emerald Greek island !!
Having decided to visit Corfu (also named as Kerkyra or Korfu), one of the most interesting Greece's islands of the Ioniansea prepare yourself for an unparalleled experience. An amalgam of natural beauties traditional villages & features and archaeological sites.
Corfu lies to the north of the ionian sea at the entrance of Adriatic sea. It is the second largest island in the group known as the Ionian Greek islands. Corfu is the island of miracles and wonders, where every moment the scene changes without affecting the harmony of the terrain.
The most green of Greek islands, Corfu, has three million olive trees. As well as flower-strewn countryside and Adriatic-style traditional villages, it has splendid coastal scenery and some excellent secluded sandy beaches. On this cosmopolitan island, you'll be able to combine relaxation with good times and a full nightlife, for Corfu is an international tourist centre which can satisfy the demands of the most difficult visitors.
Corfu today offers a truly exotic mix of European culture and ancient mystique. Its varied landscape combines alluring beaches and mountain peaks, traditional villages are surrounded by vineyards and olive groves, countless ancient ruins to inspire and stir your imagination.
located on the beautiful island of Corfu (Kerkyra) and only a few minutes away from the center of Messonghi resort and the beach

Located in a tranquil site on the west coast of the Ionian island of Corfu. This Corfu Villa offers breathtaking views of the sea

Secluded location directly to beach of Chalikounas Corfu island. Surrounded by beautiful gardens with palm trees ..

great location in a peaceful surrounding, close to beach, and just 50-00 meters away from the most famous local tavernas.

situated direct in the beach and just 5 meters from the sea. This superb villa offers three 3 luxury apartments magical sea views.

run by the owner's family, offering genuine hospitality in Corfu. The apartments are quite & located 100m from the beach.


A modern apartments complex, just steps from the Beach and the Sea. Dedicated to the highest standards of Corfu's hospitality.

Set in a garden, 200 metres from Barbati Beach in Corfu, offers
a pool and snack bar. It features self-catered accommodation

Exclusive, traditional Venetian style beach villa Mansion right on the seafront with a unique in Corfu private beach access.
Corfu resorts,
beaches and
places to visit

Agios Georgios

,

Benitses

,

Kavos

,

Messonghi

,

Moraitika

,

Saint George

,

Marathias

,

Agios Gordios

,

Barbati

,

Dassia

,

Glyfada

,

Gouvia

,

Ipsos

,

Kontokali

,

Pelekas

,

Kanoni

,

Komeno

,

Kontogialos

,

Agios Gordis

,

Liapades

,

Paramonas

,

Acharavi

,

Kassiopi

,

Paleokastritsa

,

Roda

,

Sidari

,

Nissaki

,

Arillas

,

St Stefanos

,

Ermones

,

Kalami Peroulades

,

Agni bay

,

Agios Georgios North

,
| | |
| --- | --- |
| | --- |
| | --- |
Organise your dream wedding in Corfu
Whether you are planning a Civil wedding, Orthodox wedding or a symbolic vow renewal, we are here to design your perfect destination event at one of Corfu's unique and breathtaking locations. Our coordinators will be happy to provide all the information and care necessary to organize the ceremony of your dreams. We have a Corfu wedding package to fit every couple's dreams. Let us guide you as to which one will be most suitable for your special day..


---

Properties for sale in Corfu (houses, villas, holiday homes, lands, etc...)
Seeking to invest on Greece ? Looking for an island home or a nice villa? Want to buy a house or plot of land in Corfu. Our team is comprised of helpful professionals including: lawyers, architects, engineers, & developers who are available to assist you. We can suggest and sell individual dwellings, houses, villas or hotels, or we can assist in the purchase of land and the construction of your new home and enjoy the advantages of living on Corfu.


---

The top 10 places to visit in Corfu
The island exerts a certain charm whose source does not only derive from its natural and unequalled beauty.
Corfu has a very interesting hostory, a special architecture of its own and a highly developed civilization nd culture. These characteristics can be found all over the island and even in the most remote places. Naturally a lot of concentrated in Corfu Town. There are o lot of places that a visitor should not miss when being in Town.


---
Geography: Corfu is the most northerly of the Ionian Islands. The southeast coast lies about 10km from mainland Greece, the northeast about 2km from Albania. Area: 641sq km. Highest point: Mount Pandokrator, at 906m. Length, north to south: 60km. Width, east to west: 4km to 30km. Length of coastline: 217km. Population: 114,000 approximately, of which about 41,000 live in Corfu Town.

Climate: Corfu has a higher average rainfall than the rest of Greece. The highest monthly rainfall is in December, with 240mm.
The summer months are almost entirely dry. Average daily sunshine, May - September: 10 hours. Average temperature, July - August: 32°C. Average temperature, December - January: 15°C.

General information: About 65 per cent of Corfu's land is under cultivation. Of this, 55 per cent is devoted to olive trees, of which there are an estimated 3.5 million. The rest of the cultivated area is used for vineyards, citrus fruit, vegetables and grazing. About one million tourists visit Corfu annually and an estimated third of Corfu's working population is involved in tourism and its related industries.
Google+
Web Counter
About Corfu
 | 
Getting here
 | 
Accommodation
 | 
Aqualand
 | 
Car retnal
 | 
People of Corfu
 | 
Ferries
 | 
Walking
 | 
Contact
 | 
Corfu town
|
Pictures
|
Widfife