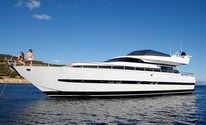 Yacht Charter Greece
Corfu island (Kerkyra)
 | 
Hotels
 | 
Paleokastritsa
 | 
Villas
 | 
Car hire
 | 
Enquiries
 | 
Corfu weather
 | 
Corfu holidays
 | 
Cheap flights
|
Acharavi
Sidari... probably the most famous destination on Corfu's north coast...
Get active on Sidari's beach, Eat Greek by the beach, Have a night out in Sidari !!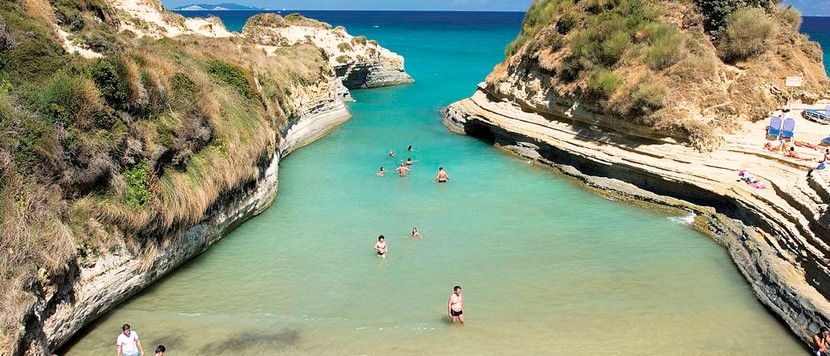 Sidari is one of the most beautiful and cheerful resorts in Corfu. Set amidst rolling hills, fields and forests, the whole region is known for its relaxed pace of life, wide open spaces and vibrant colors. Sidari itself has extensive and safe sandy beaches, ample tourist facilities and a pleasantly easy-going atmosphere. Sidari s an ideal place for a family holiday in that there is plenty for the kids to do and many amusements, water sports, discos and so on for other members of the family.

There are also numerous shopping opportunities, excellent restaurants and bars, hotels and of course the beach is never far away.
There is plenty of opportunity too for walks in the lush surrounding countryside or along the beaches that stretch for miles either side of the town. You could also if you wish take a boat from Sidari to one of the offshore islands - Erikoussa, Othoni or Mathraki where the fishing is good and peace and tranquility guaranteed. Agios Ioannis Karoussades has a long sandy beach and to the east end, a short way inland, lies an old walled monastery with picturesque views.

The village of Karoussades is well worth exploring with its old streets and some magnificent mansions and the area around is full of enchanting valleys, old churches, monasteries and secluded beaches. Peroulades, just to the west of Sidari, is known for its sandstone cliffs which form exquisite and ever changing bays and inlets as the sea moulds and shapes them. The famous Canal d'Amour (originally a sand cave in the form of a tunnel) is here. Initially named after a natural channel cut by the sea in the sand cliffs, it was a place where lovers could be alone.

Time has changed the coastline but not love. Further west of the Canal d'Amour there are many old villages and untouched beaches to explore. This is an ideal area for walks and bicycle rides. If you pass through the village of Peroulades you come to the beach cliff top where there is a path down to the sea. In the village look out for signs to Cape Drastis. You won't be dissapointed - fascinating views of the cliffs below you.

| | |
| --- | --- |
| | --- |
| | --- |
We guarantee the best price. Easily find availability at once.
Compare 100s of travel sites and save up to 40% on Sidari holiday rentals !!
Web Counter
About Corfu
 | 
Getting here
 | 
Accommodation
 | 
Benitses
 | 
Car retnal
 | 
Messonghi
 | 
Ferries
 | 
Houses for sale
 | 
Contact
 | 
Corfu town
|
Paleokastritsa