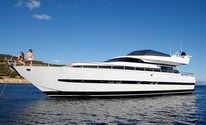 Yacht Charter Greece
Corfu island (Kerkyra)
 | 
Hotels
 | 
Agios Georgios South
 | 
Villas
 | 
Car hire
 | 
Enquiries
 | 
Corfu weather
 | 
Corfu holidays
 | 
Cheap flights
|
Acharavi
Agios Georgios North: A little village, perched on Corfu's north-west coast !! !!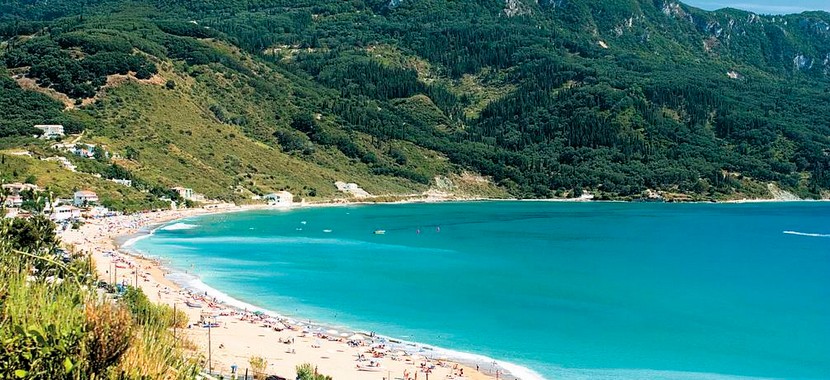 Approximately 30km from Corfu town and airport, the delightful resort of Agios Georgios (North Corfu) is reached via a winding road through wooded hills which reaches its destination at the very water's edge.The huge expanse of sandy beach between the cliffs of high rocky headlands on either side is one of the best in the island. Agios Georgios North is one of the most beautiful beaches of Corfu.

It has been awarded with the Blue Flag from the European Union. It is ideal for those seeking for a quiet and a relatively isolated beach to relax. Characteristic of this beach is the blond shore and shallow waters. Not known for vigorous night-life, Agios Georgios suits families with young children, couples and individuals of all ages who enjoy restful holidays in beautiful countryside, while at the same time providing endless fun for the kids on the beach or around the few hotel pools.

The small settlement stretches around the cove and has glorious view. Close to it are the villages Afionas, Prinilas, Agros and Kastellani that distinguish for their traditional architecture and the wonderful combination of green nature with dreamy shores.
Agios Georgios should be distinguished from another resort of the same name in the south of Corfu. There is a good choice of Tavernas and shops at several places along the beach-side road.

| | |
| --- | --- |
| | --- |
| | --- |
We guarantee the best price. Easily find availability at once.
Compare thousands of travel sites and save up to 70% on Agios Georgios North holiday rentals !!
Web Counter
About Corfu
 | 
Getting here
 | 
Accommodation
 | 
Benitses
 | 
Car retnal
 | 
Messonghi
 | 
Ferries
 | 
Houses for sale
 | 
Contact
 | 
Corfu town
|
Paleokastritsa