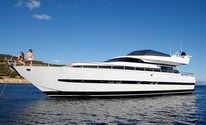 Yacht Charter Greece
Corfu island (Kerkyra)
 | 
Hotels
 | 
Dassia village
 | 
Villas
 | 
Car hire
 | 
Enquiries
 | 
Corfu weather
 | 
Corfu holidays
 | 
Cheap flights
|
Dassia village
" LUXURY VILLA WITH PANORAMIC SEA-VIEWS "
4 spacious bedrooms, 4 bathrooms, Jacuzzi, BBQ, Satellite TV, Wi-Fi, can host up 10 person
s
Detached new built very high standards Villa with private pool and panoramic Sea-view !! Located in Halikounas beach, Corfu, the villa is a family enterprise. The villa reflects our own desire to have a high-quality holiday destination all year round, our love of Corfu and our familiarity with the island, and the need we identified in many of our friends and acquaintances for personalized vacations.

On one side the sea and lagoon, on the other the mountain and olive groves.
Spacious verandas, one looking east and one west, affording fabulous views of the sun setting into the waters of the Ionian Sea, transforming both sea and sky into an astonishing range of colors. On ground floor level to the south of the building is the swimming pool.

The pool enjoys views over the lagoon and the great expanse of sea. It is fairly large, about 80 square metres, with a pleasant surrounding area laid with pebbles. There are ample wooden recliners for sunbathing and relaxation. Next to the pool is the outdoor dining space and a little farther off a barbecue area for those wishing to try their hand at grilled foods.

A large veranda with a surface area of more than 200 square meters provides an additional al fresco dining space, a sitting area and a childrens play space.We enter the house by a large space accommodating the sitting room, with open hearth, and dining area. Four huge French windows offer a superb view over the sea and provide easy access to the pool on the southern side of the house.

The Villas is available all year round. Minimum stay, one week. Services such as car hire, 24-hour maid, cook, child care are available on request at extra charge, we must be notified that these services are required at least one month before your arrival. There are no additional charges for electricity, air-conditioning, internet use, heating oil or firewood.

On your arrival you will find fruit, juices, bottled water and basic foodstuffs for the first day, so you can relax after your journey without having to worry about shopping. A special safety box is provided for your jewelry, and there is an alarm system linked to a security control centre.
All rooms have telephone and a closed circuit link to the gateway. There are also a fax machine and computer with internet access.
Facilities of Luxury Villa with panoramic Sea-views

Swiming pool, BBQ facilities, Large Garden, Sun terrace, Childrens playground.

Hiking, Bicycle rental, Fishing,

WiFi is available in all areas Free of charge.

Home cinema, Satellite receiver in every room, Computer with internet access, Safe, Security system, Home cinema

Luxury rooms, Air conditioning, Heated pool, Dishwasher. Washing machine, Massage armchair 
At this Luxury Villa in Corfu. we are ready to welcome you and offer you a perfect vacation.
Please, complete our CONTACT FORM with your request and we will reply to you as soon as possible.
Enquiries without an e-mail address cannot be processed!
Completing the reservation form puts you under no obligation. We will reply within the next hours to let you know whether the accommodation you have requested is available. In order for us to hold, confirm or guarantee the reservation.
Web Counter
About Corfu
 | 
Getting here
 | 
Accommodation
 | 
Benitses
 | 
Car retnal
 | 
Messonghi
 | 
Ferries
 | 
Houses for sale
 | 
Contact
 | 
Corfu town
|
Paleokastritsa