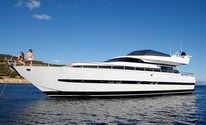 Yacht Charter Greece
Corfu island (Kerkyra)
 | 
Hotels
 | 
Paleokastritsa
 | 
Villas
 | 
Car hire
 | 
Enquiries
 | 
Corfu weather
 | 
Corfu holidays
 | 
Cheap flights
|
Acharavi
Ermones (Corfu): Tourist information, photos, hotels & more !!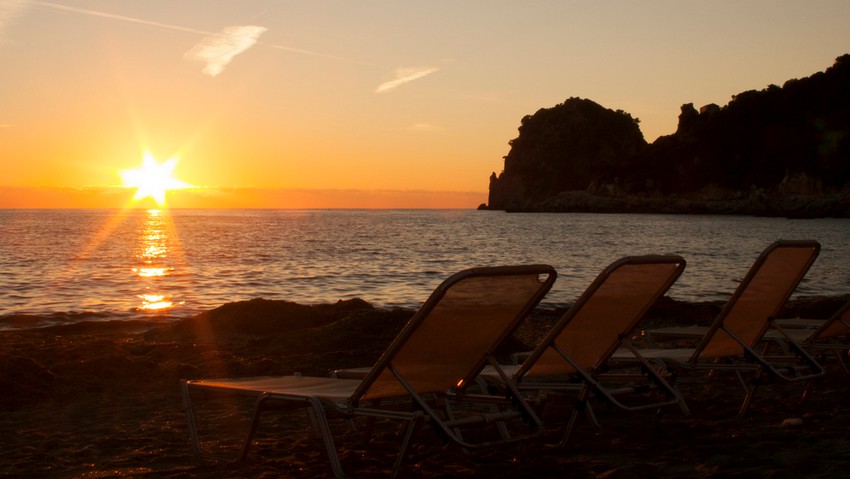 Picturesque Ermones Bay claims to be the place where Homer's Odysseus was washed ashore after his voyage from Calypso's isle. Here Odysseus was discovered by the beautiful Nausicaa, daughter of Alcinous, King of the Phaeacians - the legendary inhabitants of Scheria, ancient Corfu. There has been much development of hotels and apartments at Ermones in recent years.

The Sunmarotel Ermones Beach Hotel has a funicular railway. Its track slices down the hillside between hotel bungalows and the beach; the ultimate hotel lift, undreamt of by Homer. Ermones lies between two steep headlands, its shingle beach lapped by turquoise water. The Ropa River runs into the bay across the middle of the beach and this feature has strengthened the Homeric associations further.

Here Nausicaa and her handmaidens came to wash clothes 'in the flowing stream of the lovely river', and, while playing a form of classical beach ball, discovered the exhausted Odysseus. Today, beach ball is just one of Ermones' numerous activities, which include paragliding, and there are several tavernas above the beach. The beach shelves quickly into deep water and this should be kept in mind as far as young children and poor swimmers are concerned.

A rough path leads north from the road end above the beach, along the northern arm of the bay to the little Church of Zoodochos Pighi, the Source of Life. Here there are fine views to a lonely headland. Inland from Ermones, on the flatlands of the Ropa Valley, is the Corfu Golf and Country Club, where a meandering stream adds zest to the course.

| | |
| --- | --- |
| | --- |
| | --- |
We guarantee the best price. Easily find availability at once.
Compare 100s of travel sites and save up to 40% on Ermones holiday rentals !!
Web Counter
About Corfu
 | 
Getting here
 | 
Accommodation
 | 
Benitses
 | 
Car retnal
 | 
Messonghi
 | 
Ferries
 | 
Houses for sale
 | 
Contact
 | 
Corfu town
|
Paleokastritsa