Corfu island
 | 
Hotels
 | 
Apartments
 | 
Villas
 | 
Car hire
 | 
Corfu videos
 | 
Weather
 | 
Corfu holidays
 | 
Properties
 | 
Cheap flights
|
Romantic Things to do
Corfu town (Kerkyra), Corfu - Information and pictures ... !!
One of the most attractive cities in the whole of Greece, with its mixture of architecture and cultures. Beautiful views of the old town from the top of both forts. Nearby Garitsa bay is worth a walk along where you will find the Greeks playing boules and traditional tavernas. Jewellery shops abound and bargains to be had! Tried to compare it to other main towns in Greece, none compare.

The Town is located in the middle of the island's east coast. The large and beautiful square named Spianada is the main focal point of Corfu town. On the east side of the square on a small promontory, rises the Old Fortress which is separated from the town by a defensive moat known as the Kontrafosa. It was built by the Venetians in order to reinforce the defence of the town from several enemies.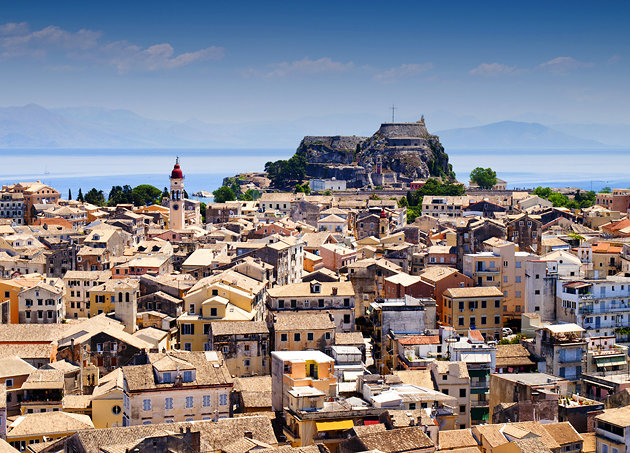 To the north of Corfu town Spianada stands the Palace of St. Michael and St. George. It was designed by a British architect in 1823, and used as the official residence of the Governor. Prince Philip was born in this place. It was the site of the 1994 EU Summit meeting. Near the square is the building of the Ionian house of parliament. This was erected in 1855 and today houses the museum of the fighters for the freedom of the Ionian islands. This is where members of parliament of the Ionian islands voted for union with Greece (1864).

Following the passage with the tourists shops, just behind the Liston, the church of Agios Spyridon is approached along a street by the same name. The church is very impressive and for visiting inside you should be suitably dressed. St. Spyridonas is the patron Saint of Corfu.

The saint casket is paraded through the streets of the town four times a year:
On Palm Sunday, Easter Saturday, 11 August and first Sunday of November. If you take a drive out of Corfu Town to Kanoni area you will see Mouse Island (Pontikonissi) with it famous little chapel that is so well known from almost all Corfu postcards. If you love aircraft, this has to be one of the best places anywhere to see them close up, landing and take off from Corfu Airport (CFU).
Web Counter
About Corfu
 | 
Getting here
 | 
Accommodation
 | 
Aqualand
 | 
Car retnal
 | 
Messonghi
 | 
Ferries
 | 
Houses for sale
 | 
Contact
 | 
Corfu town
|
Corfu pictures