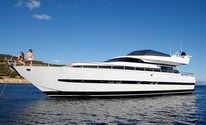 Yacht Charter Greece
Corfu island (Kerkyra)
 | 
Hotels
 | 
Paleokastritsa
 | 
Villas
 | 
Car hire
 | 
Enquiries
 | 
Corfu weather
 | 
Corfu holidays
 | 
Cheap flights
|
Acharavi
Kalami lies on Corfu island's north-east coast,
amid a landscape of quiet bays backed by the tree-clad slopes of Mount Pandokrator.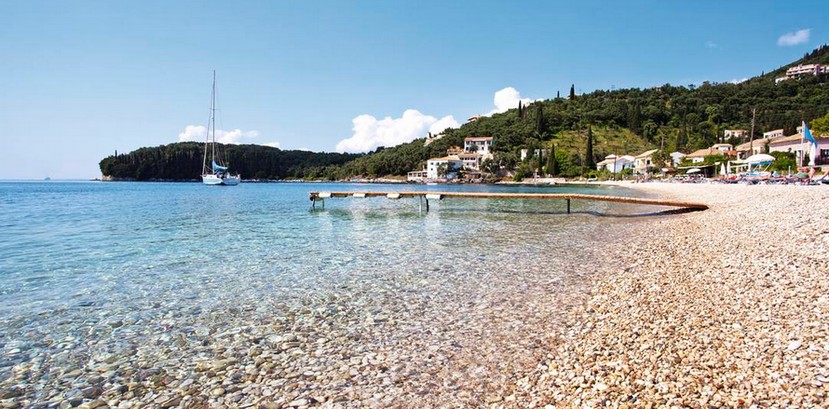 In the famous White House at Kalami, the writer Lawrence Durrell lived for a time and drew on his impressions for his lyrical book Prospero's Cell. Today, Kalami's idyllic peace and quiet, the 'charms of seclusion' described so vividly by Durrell, are no more. Seen from the north, however, its deep-blue bay caught within a green amphitheatre of olives and cypresses, the village still reflects the quintessential beauty of old Corfu. Unfortunately, the view from the south includes the modern terraced apartments that dominate the west side of the bay while continuing development has seen access roads to new villas gouged out of the green slopes.

The White House, 'set like a dice on a rock already venerable with the scars of wind and water', stands on the south side of the bay. It is distinctly English-looking, with its solid, square shape and its broad, hipped roof. Here Durrell and his wife, Nancy, lived what seems to have been a truly idyllic life in the Ionian sun. Their quickest way to Corfu Town was by boat and the Durrells traveled a great deal in their little sailing boat, the Van Norden. Their friends were a collection of serene eccentrics.

Even the dynamic Henry Miller was persuaded to visit for a time and was captivated by Greece. Today, the White House functions as a restaurant with apartments above. Kalami has a number of other taverns, interspersed with villas, the whole softened by groves of orange and lemon trees, olives & cypresses. Although it is busy in summer, evenings are quiet. Boats can be hired, and the beach is very safe for children.

We guarantee the best price. Easily find availability at once.
Compare thousands of travel sites and save up to 70% on Kalami holiday rentals !!
Web Counter
About Corfu
 | 
Getting here
 | 
Accommodation
 | 
Benitses
 | 
Car retnal
 | 
Messonghi
 | 
Ferries
 | 
Houses for sale
 | 
Contact
 | 
Corfu town
|
Paleokastritsa