Corfu island
 | 
Hotels
 | 
Apartments
 | 
Villas
 | 
Car hire
 | 
Corfu videos
 | 
Weather
 | 
Corfu holidays
 | 
Properties
 | 
Cheap flights
|
Romantic Things to do
Paxos & Antipaxos islands - A magical setting for a dream Vacation... !!
Paxos is a Greek and wooded island in Greece, with a few fishing and farming villages. The thick groves of olive trees are still a major part of the island's economy. In Greek mythology, Poseidon created Paxos for his mistress, and its small size has saved it from the turbulent history of its larger neighbors. Paxos island became part of the Greece's state along with the other Ionians in 1864.

Gaios is a lively, holiday town with 2 small harbors: the main port where ferries dock and, a short walk away, the small harbor, lined with 19th-century houses with Venetian-style shutters and balconies. At the water-front stands a statue of hero in the Greek Revolution. The grandest house was once resi-dance of the British High Commissioner of Corfu. Behind it are narrow old streets, bars and taverns.

One main road goes from the south to the north of the island. There are few cars and the best way to get about is by bicycle or moped. Many pleasant tracks lead thyrough woods to high cliffs or secluded coves. At the end of a deep, almost circular inlet on Paxos's northern coast lies the town of Lakka. This pretty coastal town is backed by olive groves and pine-covered hills. Lakka is popular with day-trippers from Corfu, but at night it returns to being a quiet fishing village, with a few rooms to rent and only a scattering of restaurants and cafes.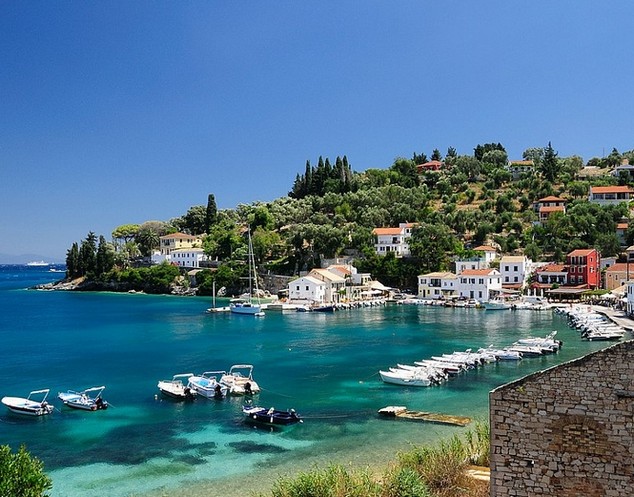 To the east is the small village of Porto Longos, which is the most attractive of the island's settlements. It has a pebble beach, a handful of houses, a few shops, and taverns whose tables stand at the water's edge. Porto Longos is a peaceful place where the arrival of the boat bringing fruit & vegetables every few days is a major event. Paths from the village lead through olive groves to coves, good for swimming.

Around 100 people live on Antipaxos, south of Paxos. The island is unusual in that olive trees are easily outnumbered by vines, which produce Antipaxos's potent and good-quality wine. There is little tourism and no accommodation available, although the sandy beaches do fill up in summer with visitors from Paxos. Offshore from Gaios lie the two islets of Panagia and Agios Nikolaos.
Web Counter
About Corfu
 | 
Getting here
 | 
Accommodation
 | 
Aqualand
 | 
Car retnal
 | 
Messonghi
 | 
Ferries
 | 
Houses for sale
 | 
Contact
 | 
Corfu town
|
Corfu pictures