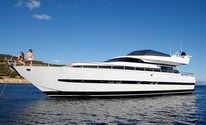 Private Yacht Cruises
About Corfu island
 | 
Hotels
 | 
Apartments
 | 
Villas
 | 
Car hire
 | 
Enquiries
 | 
Weather
 | 
Corfu holidays
 | 
Properties
 | 
Cheap Flights
|
Corfu town Video
Most Romantic things to do in Corfu island !!
From the dramatic landscapes of Canal d'Amour in Sidari to the classy elegance of Corfu town, some of the most romantic places in Greece are found in Corfu island. Whether you're looking to spend an idyllic honeymoon or simply have a romantic holiday, Corfu is the setting for unforgettable romantic activities. Here are some of the most romantic things to do in Corfu
Watch the sunset
Nothing beats watching the sun go down while painting the sky in brilliant shades of red, pink and gold. The most famous spot, (arguably the best sunset in Corfu) can be watched from Pelekas. Popular throughout the centuries, Kaiser Wilhelm II used to spend his evenings watching the sun going down and disappear into the Ionian sea. Nowadays, tourists flock to the top of the hill (on which the so called "Kaiser's throne" lookout is to be found) to watch this marvelous sight having a drink at the peaceful cafe with the brilliant panoramic views to the Ionian sea. Pelekas sunset is highly recommended for those romantic hearts which love staring and dreaming watching the sunset.
Enjoy private swims
Corfu offers numerous beaches with diverse beauty, from long stretches of golden sand to tiny sheltered coves. Avoid the crowds and go for a romantic moonlight dip in the crystal clear waters, or enjoy a private and refreshing early morning swim when nobody will be around..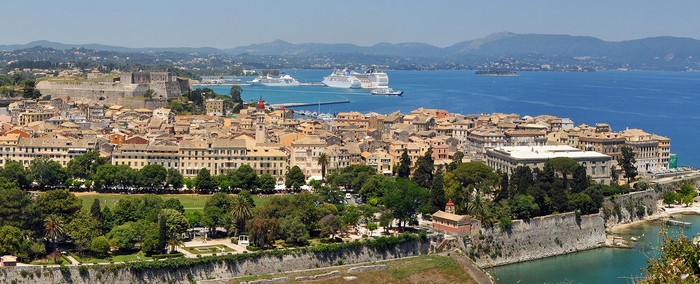 Have romantic walks in Corfu town
Corfu town and especially in its oldest part, is one of the most charming and romantic places inGreece. Almost 500 years of Venetian, French and British occupation have left their influence. The most influential both strategically and architecturally were the Venetians, who gave its capital such grace that, two centuries after they left, its compact World Heritage Campiello (Old Town) remains as alluring as Siena or Dubrovnik, if less polished. Corfu's secret little streets and panoramic points will unexpectedly surprise you!p>

Take a horse carriage ride
One of the most unique ways to experience the beauty of Corfu town is a horse carriage ride. Cuddle together and relax in a stylish coach, as you ride around some of the most picturesque town in Greece. The Venetian architecture of Corfu Town with the elegant mansions and paved is the best backdrops for a romantic carriage ride. The historic Horse-Carriages of Corfu was the traditional transportation of the Island. Nowadays used as Horse-Carriages Tour in Corfu Town.
A ride with Horse-Carriage will travel you to different times enjoying the beautiful sights of Corfu. The ride starts from Spianada Square goes to Mouragia(Arseniou St.) - Agio Sofia - Georges Theotoki St. - Desila(Gym) - Tennis area and returns to Spianada Square. The time of touring is 40 minutes and the Coachman will guide you to local sights of Corfu. The cost of a ride is between 20 and 30 €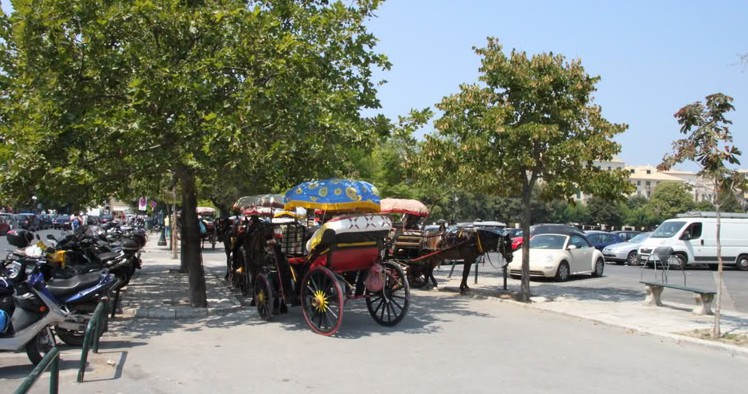 Web Counter
About Corfu
 | 
Getting here
 | 
Accommodation
 | 
Benitses
 | 
Car retnal
 | 
Messonghi
 | 
Ferries
 | 
Houses for sale
 | 
Contact
 | 
Corfu town
|
Paleokastritsa