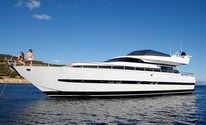 Yacht Charter Greece
About Corfu island
 | 
Hotels
 | 
Delfino Blu Reviews
 | 
Villas
 | 
Car hire
 | 
Enquiries
 | 
Corfu weather
 | 
Corfu holidays
 | 
Cheap Flights
|
Ag Stefanos
Delfino Blu Boutique Hotel in Agios Stefanos, Corfu !!
"A perfect place to spend our holidays ... Fantastic hotel with fantastic services" ...
| | |
| --- | --- |
| | |
This small boutique hotel is amphitheatrically built overlooking the beach of Agios Stephanos in Corfu. It features bright studios with PC, LCD TV and DVD player. There are 2 pools and 2 bars on site. Each of the bright and airy studios of the Delfino Blu has a private balcony with sea view. They are all spacious, with modern bathroom with spa bath and comfortable seating room with sofa.

At the à la carte restaurant Kohili guests can enjoy a romantic candle-lit dinner in the open-air veranda with the spectacular view of the sunset and the small islands. Located next to the swimming pool and under the rocky waterfalls, the pool bar La Veranda serves refreshing drinks, cocktails and light snacks. Grills and fresh salads are available at the beach bar Mango, under the sounds of Latin music.
Delfino Blu is a shelter of serenity, far away from cosmopolitan Corfu island, yet very close to the intense nightlife of Sidari holiday resort.

Agios Stefanos village is situated on the north western side of Corfu island. It is built amphitheatrically on the slopes of a hill, just opposite the complex of Diapontia Islands (Othonoi, Ereikousa and Mathraki). This is the closest place to the Greek borders with Italy and its coasts are washed by the Adriatic Sea. Small boats depart every day from the small port of Agios Stefanos with destination to the Diapontia Islands and to nearby areas. Fishing boats of locals usually moor in the port of Agios Stefanos creating an authentic atmosphere.

The large beach of Agios Stefanos has wonderful golden sand and turquoise shallow waters. It is considered very safe and is highly recommended to families with children. Every year this beach is awarded with the European Union Blue Flag for the Environment Protection, thanks to its clean waters. The beach is very well equipped and you will find sun beds, WC, showers, a playground and various sea activities. Many beach bars, taverns, restaurants, supermarkets and a lot of souvenir shops can be found along the beach and in Agios Stefanos.
Web Counter
About Corfu
 | 
Getting here
 | 
Accommodation
 | 
Benitses
 | 
Car retnal
 | 
Messonghi
 | 
Ferries
 | 
Houses for sale
 | 
Contact
 | 
Corfu town
|
Paleokastritsa