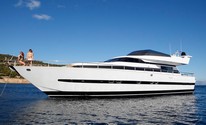 Yacht Charter Greece
About Corfu island
 | 
Hotels
 | 
Apartments
 | 
Villas
 | 
Car hire
 | 
Enquiries
 | 
Corfu weather
 | 
Corfu holidays
 | 
Properties
 | 
Cheap Flights
|
Messonghi
Agapi-Anni apartments in Saint George (south), Corfu ..!!
2 bedroomed apts (2-5 persons), free Wi-Fi, 200 meters from the beach, ideal for families ...
The agapi-anni complex consist of 5 independent apartments with 2 bedrroms each. All apartments are fully equipped, with kitchen, refrigerator, utensils, separate bathroom with hot and cold water, TV, Wi-Fi internet, air-condition, parking and whatever you may need for a pleasant and comfortable stay. The friendly owners have created a warm and happy environment and they will happily answer to your questions and give you information and suggestions. The apartments are surrounded by jasmine, bougainvilleas and hibiscus bushes that stimulate all senses. Saint George (also known as Agios Georgios south) is a well developed resort with a choice of excellent beaches, popular with couples, families and senior citizens. The distance from Corfu town and airport is 20 miles (south). Since it combines both – quiet holidays with busy nightlife in walking distance it became very famous and popular holiday resort.
At Agapi-Anni apartments we are ready to welcome you and offer you a perfect vacation in Corfu.
Please, complete our CONTACT FORM with your request and we will reply to you as soon as possible.
Enquiries without an e-mail address cannot be processed!
Completing the reservation form puts you under no obligation. We will reply within the next hours to let you know whether the accommodation you have requested is available. In order for us to hold, confirm or guarantee the reservation.
Web Counter
About Corfu
 | 
Getting here
 | 
Accommodation
 | 
Benitses
 | 
Car retnal
 | 
Messonghi
 | 
Ferries
 | 
Houses for sale
 | 
Contact
 | 
Corfu town
|
Paleokastritsa